How to sell your company when it's a "Candidate's Market."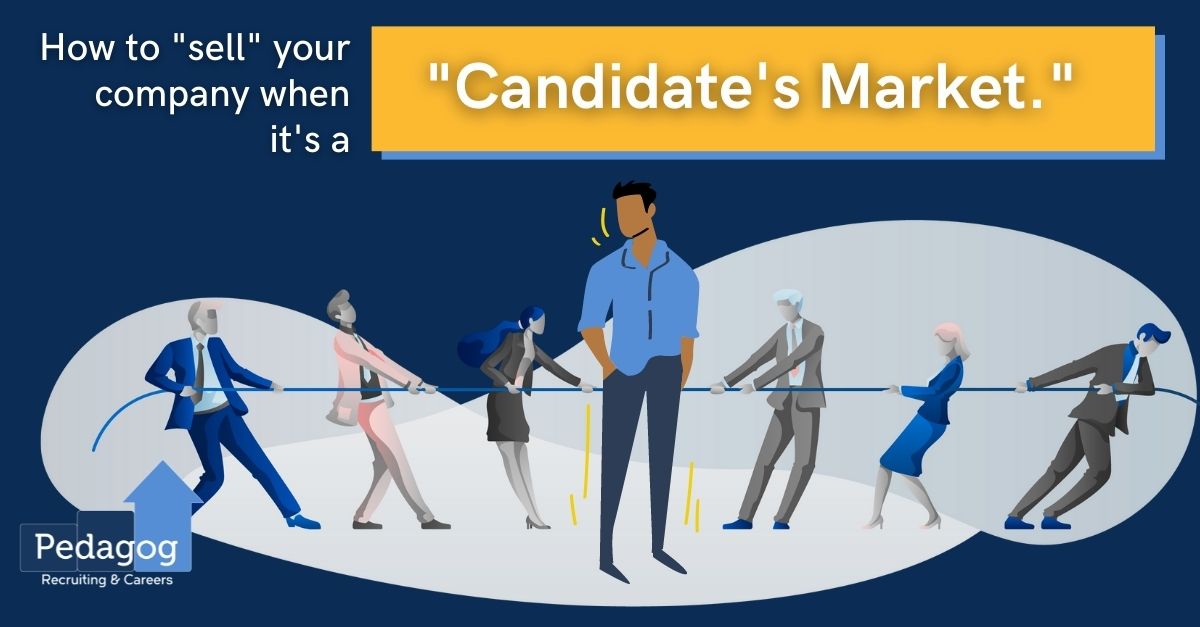 Let's face it, the pandemic brought in a wave of change, and that included the power shift in the hiring process. Today's job market has quickly become a candidate's market and has companies stumbling over each other for candidates. Even with great benefits and a beaming culture, competition for a quality employee is steep. So how do you help your company stand out when it comes time to sell to a candidate?
Get Creative with Your "Pitch."
Nowadays, most respectable companies have an "excellent company culture" and "outstanding benefits," and all seem to lead with these as their selling points to potential prospects. Instead, try approaching with a real-life scenario, highlighting examples of how that culture or benefit works in action. For example, "We found that our employees were feeling fatigued with a rigid 9-5, in part to interference with personal life; our new "no-questions-asked" flex schedule allows for premium work-life balance."
Let your reputation speak for you.
Prospective employees are used to the same tired spiels employers use to win them over. Unfortunately, in a candidate's market, this means your hiring manager's ability to talk up the company weighs very little compared to the opinion of past or current employees. To win at this, try setting up a time for a candidate to sit down with a current employee, allowing them to ask questions and get an honest take on a day in the life at your company.
Researching a potential employer is a part of any wise candidate's approach. So, in addition to allowing interviews with current employees, look at highlighting positive reviews from places like Glassdoor or Indeed on your website and social media. (click here for a complete list of places employees can rate your company)
Do away with the fluff.
Candidates can easily see through a smoke and mirrors show, which a rehearsed description of expectations indicates. Therefore, work with your hiring team on how to approach expectations genuinely. Even tricky or less desirable aspects of the job will be more readily received when provided with clarity upfront.
Call in a professional.
The shift in the job market means it now requires skilled know-how in finding qualified candidates. To help ease this burden from your hiring team, try working with an expert. For example, recruiters like Jeff Bockelman and his team at Pedagog have a talent for sourcing the ideal candidate without wasting your valuable time. More so, they have a reputable understanding of how to navigate a conversation with a prospective candidate, making sure your position stands out in an overcrowded job market.